The Compulsory Third Party (CTP) scheme provides compensation in the event that someone is injured or killed in a motor vehicle accident. Insurers continue to campaign for the Scheme to be changed to a "no-fault" system, but Queensland's CTP Scheme remains the best "fault-based" insurance in Australia.
If you, or someone you know, has been involved in a road traffic accident you are most likely to be feeling overwhelmed at the prospect of making a claim. The process may seem very complicated and stressful, but the results will be worthwhile. You can manage a claim for CTP insurance yourself, or you could save yourself a lot of stress by engaging a lawyer to process a claim for you. Trilby Misso Lawyers specialises in Personal Injury Law and can help you navigate the complexities of the CTP claims process on a 'No Win, No Fee' basis.

What Is the Claim Process?
CTP insurance covers the owner or driver of a vehicle against compensation claims when they are involved in a road traffic accident in which someone is injured or killed. As per MAIC, individuals who can prove their injuries were caused by another person's negligence may be eligible to claim compensation. However, individuals who were partially responsible for the accident may be entitled to a reduced claim.  If the vehicle that caused the accident was uninsured or unregistered, you might still be able to make a claim. However, it is recommended that you seek professional legal advice before completing a CTP claim form.
There are specific steps that must be taken before you can make a claim. If you have been involved in a road traffic accident, the law requires that you report the incident to police as soon as practicable. CTP claims can only be processed once the matter has been reported.

To-Do List
As per MAIC, if you have not already reported the accident to the police, you should complete a 'Report of Traffic Incident to Police Form', and deliver it to the police station. Forms are available for download from MAIC.
Record your version of the incident using a 'Notice of Accident Claim Form' available for download from MAIC.

The 'Notice of Accident Claim Form' includes some certificates that must be completed, including:

A Medical Certificate to be completed by your doctor.
A Claimant Certificate to be completed by you.
A Law Practice Certificate to be completed by your lawyer.

In some cases, you may be required to provide further information such as details of your financial losses in which case you will need to complete the 'Additional Information Form' which can be downloaded from MAIC.

You will also need the details of the "at fault" vehicle's insurer which you can obtain from the owner/driver of the vehicle or the Motor Accident Insurance Commission on 1300 302 568.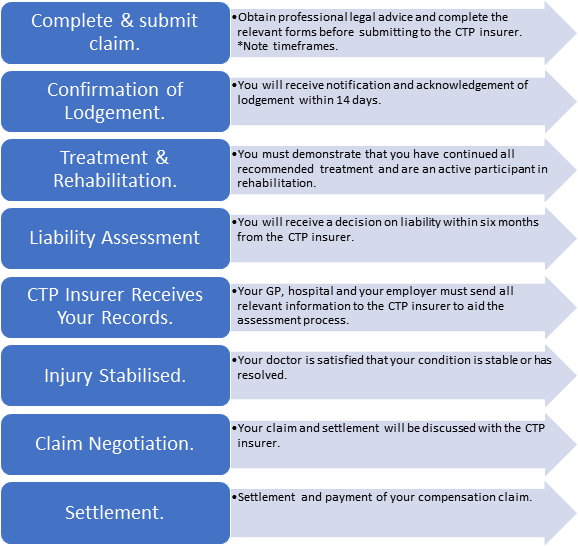 Once you have completed the form and attached all relevant documentation, medical certificates and receipts relating to your treatment, you can lodge your claim. Strict timeframes apply to the lodgement of CTP insurance claims, so you must complete and submit your forms as soon as possible.

Timeframe to Make a Claim
CTP legislation in Queensland adheres to strict guidelines regarding timeframes for lodgement of notice of claim. Your claim must be lodged:
Within nine months of the date of the accident;
or
Within one month of engaging a lawyer to manage the claim.
(whichever is the earliest)
You can make a CTP claim independently; however, it is advisable to obtain legal advice in the first instance to ensure that you receive the amount of compensation to which you are entitled.  CTP Insurers are not under an obligation to ensure you are compensated fairly or have claimed all that you are entitled to.
Trilby Misso Lawyers are specialists in Personal Injury Law and will complete and lodge your claim for you within the specified timeframe. CTP claims typically take between 12 to18 months to settle, but more complicated claims may take up to three years to reach a settlement. We operate on a 'No Win, No Fee' basis, which means that there's no risk and you won't pay a cent upfront for our services until we reach a satisfactory financial settlement. The quicker we get started, the sooner you will achieve a financial settlement.
Give Trilby Misso Lawyers a call today on 1800 TRILBY (1800 874 529) for a 'no obligation' appointment to discuss your claim.